Cruisin' with the Dragons
March 23, 2010 - Join the Twang Dragons on May 21st as we take a cool cruise along Milwaukee's harbors, river and Lake Michigan. We'll be heading out on the Iroquois from 9 to 10:30 p.m. There will be food, plenty of "refreshments" and, yep, there's even a restroom on board. Put that all together with your favorite Twangin' tunes and BAM that's a guaranteed Twangasm!

CHECK HERE FOR TICKETS
Bad Mama of the Year Award
February 4, 2010 - And the winner is...Mama Twang! Although the gig page has been updated and a few other tweaks have been made to the website, Mama has been slacking. As her penance, she will now update the News Page (see next 3 news items), update the EPK and finally get those glorious photos of the Tour of Love Part Quatre on the site. She will not leave her computer or have a Miller Lite until the last item is uploaded. Single tear....
Always a Bridesmaid...
November 19, 2009 - The Twang Dragons made it to the final three in the Shepherd Express' Best of Milwaukee Reader poll -- Best Alt-Country Band category. Check it out Right Here. Quite an honor considering the competition. But alas, we didn't walk away from the ceremony empty-handed. We left with a slight buzz and some pretty good vittles stuffed in our pockets. Thanks again to the Shepherd Express and their readers. There's always next year...
WAMI Nominations
April 15, 2009 - We're pleased as punch to announce that we've received two WAMI nominations this year! The Twang Dragons have been nominated for Best Americana Artist and the lovely Lisa (our very own Susan Lucci) is nominated as Best Female Vocalist. Yay for us!
American Music Belgium - Featuring the Twang Dragons
April 6, 2009 - Our most favorite DJ in the world, Hans, honored us on Saturday by making the Twang Dragons his featured artist! Click HERE to give it a listen. Scotty, our master engineer as well as master drummer, did a little editing so you can catch the highlights. If you wanna hear the whole songs, buy the CDs!
We're Huge in Belgium AGAIN!
April 3, 2009 - "Twangasm" has made the list for the "Recommended Albums 2009" on American Music Belgium! Click HERE and go to Page 2 on the "Recommended Albums 2009" link to check it out. Thanks once again, Hans, for enjoying and sharing the Twang!
All the News that's Fit to Print
February 2, 2009 - Another one bites the dust...CD Release Parties that is. Thanks to our home away from home, MJs on Milwaukee, for hosting an awesome party last Friday. A special thanks to KSA for doing such a great job opening for us. And as always, we really appreciate all the kind folks that came out that night and allowed us to Twang them! To commemorate the special night, we got some fine press from the good people at the Milwaukee Journal Sentinel. Check it out Right Here. Thanks to Dave Tianen for taking the time to sit down with Tommy.


One CD Release Party Down...
January 21, 2009 - Thanks to McAuliffe's on the Square for hosting our Racine CD release party! And thanks to all our fans for showing the love. It was how you say "gratifying"! That leaves us with our Milwaukee CD release party, Friday, January 30th. (Too much twang for just one party, my friends!) At our home-away-from home MJs in Milwaukee's Third Ward. As always for our CD releases...special surprises, cheap drink specials and NO COVER! Oh, did we mention the new CD's gettin' some cool reviews? Check it out on, appropriately enough, the Reviews Page.&nbsp Lookin' find in '09. Indeed.


He's HOT!!
November 12, 2008 - The Twang Dragons' beloved Tate Bunker, filmmaker and photographer extraordinaire, has been named one of the "100 Hottest Milwaukeeans". Can't say that we're surprised. Sorry, ladies, we can't give out his phone number or address. Oh who am I kidding, we can be bought. Show up at a show...buy us a drink...buy a CD...we'll program his number right into your cell phone. Check this sizzling list out Right Here.


We Have Returned
October 2, 2008 - And another Tour of Love is behind us...sniffle, sniffle. We took a vote and it has been decreed that this was the best one yet! Thank you SO much to all the venues...Royal Standard, All Inn One, Mullens, The Clarence, The Vault and Royal Oak. Each and every one of you made us feel so welcome. Thanks to all the fine folks who came out to see us. You guys know how to rock! Thanks also to Peter Gardiner for allowing us to twang the guests at his 70th birthday party (AND he fed us)!! A special shout out to all our buddies who helped us along the way by teaching us how to drive on the wrong side of the road, storing equipment, jamming with us, feeding us and just being such darn good friends (and drinking partners)...Jeff, Andy, Malcolm, Peter...we love you guys!! Love and thanks to all our British friends. We'll be back (yes, that is a threat)!!

The Tour of Love Part Trois was a resounding success...especially because we ALL made it back from Amsterdam. The only thing we didn't figure out was "What can you get for 6 Euros?" Ah well, next time...


Twangasm
September 10, 2008 - It was right down to the wire, but our third release, Twangasm, will be ready to take to England! Whew! Upon our return, we'll be getting it out to CD Baby, iTunes, etc. We'll also have it available on our Twang Wear merch page right here on the website. For a sample of the sound that is Twangasm, check out our Music Page.


Tour of Love Part Trois
September 10, 2008 - All our bags our packed, we're ready to go. We're standing here outside your door... What the heck, that's not a Twang Dragons song! Sorry, sorry everyone! Lisa is heading across the pond today with her Mum and Sis to do a little mini-tour of her motherland. The rest of the Dragons will take flight next Wednesday. We'll arrive at Heathrow on Thursday a.m. where we will pick up a mini-bus and yes, certain band members will be driving on the wrong side of the road. Say prayers please! We're all excited to be heading back to our home away from home. We'll start the tour out right by rocking the Royal Standard in Hastings on Friday night, head to London, Bushey, Stony Stratford, Eastbourne, and other points in between and finish up on the 28th at the Royal Oak in Peasmarsh. Of course, we'll have a few days of R&R so we decided to give Amsterdam a try. More prayers please! Our mission there will be to have the name officially changed to Twangsterdam. Make sure and keep an eye on our blog on MYSPACE. We'll miss you all but will be ready to Twang the States again in October! Until then...so long, farewell, auf weidersehen, goodnight...shoot that's not a Twang Dragons song either! Hey, but speaking of Twang Dragons songs...


Slaughter and the Dragons
August 6, 2008 - As you might have noticed while you were perusing the Wisconsin State Fair schedule, Slaughter will be "opening" for the Twang Dragons on Thursday, August 7th. So you'll be able to stay "Up All Night" and "Get In or Get Out of the Way" all at one stage. Powerful! Apparently, the other band is mighty impressed to be playing with us. Click HERE to check it out. Who'd a thunk the Twangs would ever make it on "Brave Words & Bloody Knuckles"? Life's funny, ain't it?


The Twangs Woke Up with Fox 6
April 23, 2008 - As previously reported, the Twang Dragons had the opportunity to play on Milwaukee's Fox 6 Wake Up Show. Click HERE to see the segment. Thanks Nicole and the rest of the Fox 6 gang!


Wake Up Early With the Dragons
April 3, 2008 - If you live in the Milwaukee area, check out Fox 6 Wake-Up on Monday, April 21st. You'll be able to enjoy your cuppa with a little Twang at 8 a.m. And if you live in the Green Bay area, you can be twanged in the morning on Thursday, May 1st. We'll be appearing on WGBA NBC 26 at 9 a.m.


You Are Free to Uncross All Body Parts
March 25, 2008 - As you all know, Lisa went to Nashville to compete in the national round of Nashville Star. Unfortunately, her journey ended there. (Isn't it amazing what one little phone call to the producers reporting that she's a "Diva" can do?) Seriously, we are all very proud of how far she went but are so happy that she won't be heading out on her own and breaking up our little family. The Twang will go on! And we all got some nifty Nashville souvenirs!


See I Told you Lisa!
March 5, 2008 - As previously reported, Lisa DID sail through the first two rounds of competition for Nashville Star. Now Nashville has called her! Our very favorite lead singer will be traveling to Nashville on Friday, March 21st to show the folks at Nashville Star what she's got as she competes in the Nationals. We'll keep you posted! In the meantime, start crossing those body parts again!


And the Nominees Are...
February 29, 2008 - The Twang Dragons are pleased to announce that we've been nominated for a few WAMI Awards this year. The lovely Lisa Hannon has been nominated as Female Vocalist of the Year. Woo Hoo! We also picked up a nomination for Americana/Rockabilly Group of the Year. And yes, www.twangdragons.com is up for Artist/Band Website of the Year. Oh jeepers, we're gonna need more body part crossing!



We are Pleased to Present - Twang Wear
February 18, 2008 - We've been selling Twang Wear at gigs for awhile now. We have come to understand that it is our obligation, and yes, duty, to bring the Wear of the Twang to the World! So we went ahead and added it to our website. Check out the Twang Wear link to join the masses who embrace Twang as a fashion statement. Special thanks to the one...the only, Tate Bunker for doing such an awesome job on the "Sears Action Pose" photos. Thanks also to Mark Hines, world traveler, for assisting at the photo shoot, and Kiki Hayes for the excellent job as Art Director.


Lisa Twangs the Judges for Nashville Star
February 12, 2008 - Lisa had the opportunity to perform in the Regional competition for "Nashville Star" this past weekend. She sailed through the first two rounds (no surprise to us!) She's awaiting word to see if she'll be competing in the Nationals in Nashville in March. She'll find out in two weeks whether she'll be making the trip. Again, do we have any doubts!?!? We'll let you know what happens as soon as she gets the call. Stay tuned and keep all body parts crossed!


Did I Mention We're Huge in Belgium?
December 6, 2007 - Each December, our most favorite Belgium DJ, Hans Hanegraaf, takes the time to put together a list of his Top 100 Albums for the year. And who do you suppose made the list for 2007? Nice guess! The Twang Dragons are #13! Check out the list to see it for yourself. We're thrilled to be in such mighty fine company. Thanks Hans for your support in 2007! We love you Belgium!! Goodnight!!


The Twang Was Saved
October 18, 2007 - We're BAAAACCCCKKKK!! What can we say...it was awesome! Three of the Dragons returned to the States on October 15th after another successful tour of England. The other Dragon (Mark) decided to hang out for another few weeks in Scotland. Check out our Pix link to take a look at what we were up to! Thank you, thank you, thank you to everyone in Jolly Olde England! The Clarence, The Royal Oak, Pissaros, Mullens, The Robertsbridge Club and The Royal Standard - you are most excellents hosts. All of you that came out to these fine establishments to get twanged - you are outstanding (especially those who took home a CD or t-shirt). Special thanks to Lumpy and the Lumpettes for setting us up with the gear and hauling it all around. We owe you! Extra special thanks to Andy and Jeff, our mates from Rude Knot To. We can't thank you enough for taking such good care of us. Here's to your next visit to the States!


Where Are They Now
October 17, 2007 - With Mark hanging out across the pond for a few more weeks, Lisa, Tommy and Scott are taking a little time off. Recharging the batteries as it were. But not for long, the Twang Dragons will be back in the studio soon recording their third CD. An EP with 5 new original Twang Dragons songs was released in England to rave reviews. We'll be recording a bunch more over the next few months. So keep an eye on the website and we'll let you know when it's hot off the presses!


God Save the Twang
September 11, 2007 - With festival season drawing to a close and the smell of Bradford Beach slowly fading, it's the time of year for the Twang Dragons to bid adieu to you...and you...and you! In collaboration with the Queen herself (o.k., maybe with just Jeff and Andy), the Twangs will be boarding Dragon Force 1 (o.k., maybe just United Airlines) to share the Twang with our mighty Allies in England. We'll be headed across the pond on October 3rd and will return on October 15th. So don't come a knockin'! We're so excited to be going back for the second year in a row. Catching up with some old friends and making a few new ones. None of this would be possible without the assistance of our dear friends, Rude Knot To and Leaney/Davis Management Team. Once again, if you find yourself wandering the fens, stop on in at one of the pubs listed on our gig page and Tommy will surely buy you a pint. Cheers!


MKE Lists Twang Dragons as "One of the Local Bands You Need to See at Summerfest"
June 28, 2007 - Summerfest starts today! Woo Hoo! And to really make this wonderful time of the year extra special, MKE has named the Twang Dragons as a must see local act at the Big Gig. Click HERE to read it for yourself. Thanks, Lill and MKE!


HARBORFEST, SUMMERFEST, RIVERFEST, LIMEYFEST!
June 13, 2007 - It's festival season, and the fests don't get any bigger than these! We're looking forward to returning to Racine and Milwaukee's biggest gigs--and making our twanging debut at Watertown's Riverfest. (Check the "gigs" section for dates.) All before heading back across the pond in the fall for our second English tour. Brilliant!


Double WAMI!
May 1, 2007 - The Twang Dragons were privileged to receive two WAMI Awards last night. "Drinkin' About You" was awarded "Song of the Year". How cool is that! Must be one of those "been there, done that" songs that everyone can relate to. We also picked up a WAMI for "Website of the Year". Special thanks to Mama Twang for keeping us updated. Thanks to everyone at the WAMIs! We are truly honored to be part of this great organization. Watch out...next year we're going for a triple!


Rock in Peace
May 30, 2007 - The Twang Dragons are sad to report the recent death of Steve Bucholtz, a former bandmate who was instrumental in getting this outfit off the ground. Steve either wrote or co-wrote every song on our first release "Shakin' & Twitchin'". Here's hoping Steve has found peace at last. And this we know -- the heavens just picked up one hell of a guitar player and songwriter.


Lisa Crosses Another One Off Her List
April 26, 2007 - When Lisa was a little girl, she made a list of everything she wanted to accomplish in her life. One of the items on it was "sing the National Anthem at a major sporting event". Since you all know Lisa, you won't be surprised to know that she recently got to cross that one right off. She had the privilege and honor to perform the National Anthem at the Milwaukee Brewers game on Sunday, April 22nd. And since you all know Lisa, you also won't be surprised that she kicked butt! She did an awesome job and made us all proud. To make it even better, our mates from England and Ireland were in attendance at this, their very first, Brewers game. The guys from Rude Knot To, Martin, Jeff and Andy, as well as the beautiful Miss Vicki and Malcolm in the Middle, had no idea that Lisa was about to take the stage. Of course, neither did Tommy or Mark! What fun to watch all of their faces as the announcer said "And now singing our National Anthem, Lisa Hannon, from Milwaukee's own, Twang Dragons". With Lisa's assistance, the Brewers beat the Houston Astros 4 to 3.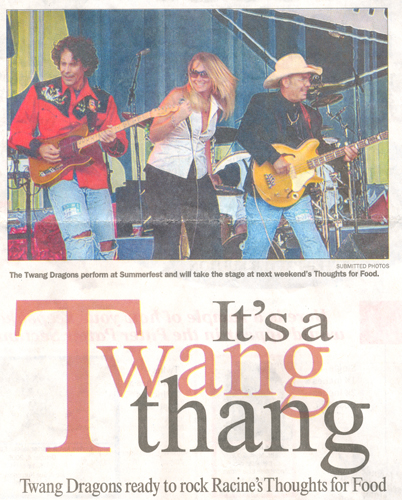 Twang Dragons Featured Band in Kenosha News
March 14, 2007 - We had the pleasure of being one of 67 bands in this year's Thoughts for Food Benefit in Racine. It's a great musical event that benefits the Racine County Food Bank. As usual, we kicked ass and took no prisoners. Even cooler for us, we were the featured band promoting the event in the Kenosha News. It was a heck of an article with this cool headline and photo. Thanks to Bill Robbins for doing such an awesome job! Thanks also to the fine folks at Joey's on 6th who made us feel right at home. And of course, special thanks to all the wonderful people who came out to watch and support a great cause.














Twang Dragons Nominated for 7 WAMI Awards
March 12, 2007 - We've been honored with 7 WAMI Award nominations this year. We're up for the big awards for Group/Artist of the Year, Bluegrass/Americana Band and Country Band. Lisa, our sassy frontwoman, has also been nominated for Female Vocalist of the Year, and Tommy, our silky smooth guitar virtuoso, is up for Guitarist of the Year. We're also quite pleased to have "Drinkin' About You" nominated as Song of the Year, and www.twangdragons.com is in the running for Website of the Year. Scott and Mark were hoping to be nominated as Prom King and Queen...oh well, better luck next year! Click HERE to see the full list of nominations.
Continuing Quest to Win Website of the Year
March 9, 2007 - We've made a few changes to the website that we hope you all will check out. (I swear it has nothing to do with that WAMI nomination! It's just a timing thing...no, really!) Some of the changes are just "cosmetic" but the biggie is that we've added three more music videos to the site. Check them out on the music/videos link.


Twang-Off Bowlfest Results
February 5, 2007 - Maria O'Leary...she came, she bowled and she conquered! Although he put up a galliant effort, Maria's experience, fortitude and superior arm strength were just too much for Tommy to overcome. In the end, Maria is the one wearing the brand new Stetson. And Tommy? Let's just say that five days later he's still applying the Icy Hot to his arm. Congrats Maria! Well Tommy's still one heck of a guitar player. See Vintage Guitar Player review.
First Annual (and most likely "only" if Tommy has his way) Twang-Off Bowlfest
January 19, 2007 - Tommy threw down the bowling gauntlet (much to his dismay now) and Markie's mother-in-law, Maria O'Leary, accepted the challege. And why wouldn't she? She's been bowling on leagues for many years. Quite the bowler we're told. And Tommy? Well, let's just say he's a really good guitar player. So Dragons and Dragonettes, if you're in the neighborhood of the Watertown Bowl North on February 3rd at 3:00 p.m., stop on in and cheer on Maria O'Leary, oops, we mean Tommy "Open Mouth Insert Foot" Dixon. This is gonna be fun(ny)!
Drinkin' About You - Live at the Cuda
January 12, 2007 - We're pleased to debut our first music video, "Drinkin' About You", shot live at the Cuda Cafe back in December. This video was directed by the award-winning, Tate Bunker, in conjunction with Looking Glass Productions. Special thanks to the talented crew, Jessica, Jeremy and Mark. A big shout-out to the dragons and dragonettes who came on out for the show. Also thanks to the gang at the Cuda! Click HERE and prepare to be twanged!
We're EVEN HUGER in Belgium than We Thought!
January 5, 2007 - What a way to start a Twangy New Year! Our new CD, Love Junkie, is on American Music Radio MILO's "Recommended Albums 2007". We kinda like the company we keep. So click HERE to check it out. Keep following the links...you'll find it.
We're HUGE in Belgium
December 16, 2006 - Take a listen to this... American Music Belgium The Twang Dragons are getting a whole bunch of airplay in Belgium. You'll also be able to hear us soon in Romania and Germany (watch your back, David Hasselhoff!)
Thanks to the Dragons & Dragonettes at the Cuda
December 15, 2006 - How much fun was that! The Twang Dragons shot their first music video at the Cuda Cafe on Saturday, December 9th. Keep an eye out...we'll be putting the video on the website as soon as the magic is complete. Special thanks to all the fine folks who came out and cheered us on. You were mahvelous, darlings!
Put Your Dancing Shoes on and Come On Out
November 29, 2006 - The Twang Dragons will be shooting our very first music video at the Cuda Cafe on December 9th! So make yourself all pretty-like and head on over to be part of the magic! The video is being directed by Milwaukee Filmmaker of the Year, Tate Bunker. The guy is so good that they had to impose the new "Tate Bunker Rule" where a person can only win the award every 5 years. Why? Because he keeps winning! Dang, we're lucky to have him! Check out our "Upcoming Gigs" link for directions and more info on the Cuda.

Post United Twangdom Press
November 24, 2006 - Click Here to read an article on our return from England compliments of the fine folks at the Watertown Daily News.
Love Junkie Now at iTunes
November 20, 2006 - We're pleased to announce that the Twang Dragons second CD, Love Junkie, is now available at iTunes. For 99 cents, you can download your favorite Dragon song. Better yet, for the low, low price of $9.99, you can download the whole darn album. No need to fight the lines at the record store or wait patiently by your mailbox for the postman...instant gratification!
Twang Dragons Second CD, Love Junkie, available (finally!)
October 31, 2006 - The Twang Dragons are thrilled to present their second CD, Love Junkie. We are extremely proud of this one and know that you're gonna like it too! Please check out our music link to take a listen to a sample of the newest released Twang Dragons songs. You can also order your very own copy from CD Baby or Village Records. Better yet, get on out to one of our shows and pick it up live and in person...if you ask real nice, we might even autograph it for you. Oh who are we kidding, we'll sign it for you even if you don't ask nice!
United Twangdom...Mission Accomplished!
October 17, 2006 - We went, we saw, we conquered! It's official England has been twanged! And they liked it...they really, really liked it! The Dragons had a fecking brilliant time and are looking forward to hopping the pond next year. A big shout out to the lovely folks at the Jenny Lind, Wheatsheaf, Mullens and Royal Oak! Can't wait to twang with you again! Special thanks to Lumpy and the Lumpettes for the equipment and the morale support! And most importantly, our sincere thanks and love to the boys from Rude Knot To, Martin, Jeff and Andy! You guys rock! The United Twangdom would never have been possible without the three of you. Many thanks for setting up the gigs, hauling our butts around, wining, dining and entertaining us, and most importantly being such wonderful mates. We owe you BIG! Speaking of which...Rude Knot To will be journeying to the good ol' USA in April. Keep an eye on our "Upcoming Gigs" link to see when you can catch this amazing band! In the meantime, please take a peek at our "Pics" link for a few shots of the boys in action as well as a photo journey of the Dragons doing England!
Is Your iPod a Few Songs Shy of 3,000?
June 21, 2006 - Effective immediately (actually effective a couple of days ago, but we're just getting around to updating this page), you can download some of your favorite Twang Dragons' tunes from iTunes. Hey, it's only 99 cents per song! Come on, what's a buck?!
Peanut Butter & Jam - Yum!
May 9, 2006 - The Twang Dragons are gonna twang up the Peanut Butter & Jam Noontime & After Hours Concert Series. On August 23rd from 11:30 a.m. to 1:30 p.m. AND from 6:00 p.m. to 8:00 p.m., we'll take the stage at Veterans Memorial Park in Kenosha. The event is free to the public! Click HERE for more info.
ANOTHER DAY, ANOTHER GIG WITH ONE OF THE COOLEST MUSICIANS ON THE PLANET -- LYLE LOVETT!!
July 20, 2006 - Yesiree, we're appearing at Lyle Lovett's Big Texas BBQ, Saturday evening, July 29th at the beautiful Leach Amphitheater in Oshkosh. If I Had a Boat...I'd sail it to Oshkosh July 29th!!
Get Your Calendars Out & Prepare to be Twanged
June 15, 2006 - Hey there, Dragons & Dragonettes! Pull out your Blackberry, Palm Pilot or that old gas receipt you've had shoved in your wallet for the last month. The Twang Dragons have added a whole bunch o'gigs for the summer and beyond. Besides our regular haunts like the Cuda, we're pleased to be introducing Twang to John Hawks Pub in Milwaukee and the Middle Branch Saloon in Kenosha. Click HERE for dates and times. Looking forward to seeing y'all twanged up.
Twangin' the World's Largest Music Festival
May 11, 2006 - The Twang Dragons have the privilege of performing at Summerfest again this year. You can find us on the Briggs & Stratton Big Backyard Stage on Saturday, July 8th, at 2:30 p.m. Music, food, sun, beer, the breeze off the lake...it doesn't get any better than this! Come on down for a little summer fun. Click HERE for more info on Summerfest.
Twang Alert!
June 20, 2006 - This just in...The Twang Dragons will be double-giggin' on July 1st. (We could still fit something in between 7 a.m. and 10 a.m. if anyone's interested.) The Dragons will be appearing at Sawdust Days in Oshkosh at 2:30 p.m. on the Budweiser Main Stage. Click HERE for more information on this festival. Don't panic if you don't see our name on the schedule yet...The Wandering Sons must have wandered off...Sawdust site should be updated soon.
WAMI 26th Annual Awards Show
May 5, 2006 - We're pleased to announce that along with being nominated for 5 WAMI Awards, we've been asked to play at the Awards Show. The WAMI Awards will be presented on Monday, May 22nd, at 7 p.m. at the Northern Lights Theater at the Potawatomi Casino. Tickets are available through Ticketmaster and the Northern Lights box office.
The United Twangdom
March 24, 2006 – Is England ready to be twanged? Will the Queen approve? We'll find out when the Twang Dragons embark on their first International Tour this fall. Keep an eye out for more details. Cheers!
Twang Me Out To The Ball Game
March 24, 2006 – Join the Twang Dragons along with FM 106.1 and Mettlocker's Sports Bar & Grill at Miller Park on Opening Day, Monday, April 3 rd . Music starts at 10 a.m. Food…beer…the all important private bathrooms…baseball…AND the Twang Dragons…what more do you need? Kick off the season right! Be part of it all, click here. We hope to see ya "at the ol' ball game!"
We've launched our sister MySpace site!
March 22, 2006 - Far be it from us to ignore the phenomenon that is MySpace. So... we've launched our sister MySpace site and we're including some things you won't find on this site. Like samples of our yet-to-be-released songs and new photos. So click HERE and sign on as our MySpace friends. Props to Emma for building our MySpace site! See you in homeroom. BFF!!
WAMI Nominees
March 7, 2006 - Nominations have been published for the 2006 Wisconsin Area Music Industry Awards! We thank the voting members and we are very pleased, proud, and humbled to be nominated as Artist/Group of the Year and Country Artist of the Year! Along with those nominations, we have been additionally honored with the following individual nominations: Lisa Hannon (Female Vocalist of the Year), Tommy Dixon (Guitarist of the Year), and Mark Nauman (Bassist of the Year). Thank You!
McAuliffe's Pub Pix
December 01, 2005 - Check out these pics from our last gig at the fabulous McAuliffe's Pub in Racine...taken by the one and only Gareth Glynn Ash, a tasty photographer with a great eye! Thanks Gareth, you're a talented dude!
Dragons Acoustic Debut
September 10, 2005 - The Dragons made their acoustic debut at Bremen Cafe. Acoustic instruments, yes, but ELECTRICITY was in the air! Check out the photos, courtesy of the one and only Tate Bunker. Look for more acoustic shows in the future.
Twang Dragons TV Debut
July 22, 2005 - The Twang Dragons woke up Milwaukee by performing a number of tunes and doing interviews between 5:30 and 7:30 AM on WTMJ, Channel 4. After an early morning wake up and a long , long day, the band demonstrated RockStar prowess by pouring down copious amounts of coffee and headlining for a couple of sets at V'nuks later that night.
Twang Dragons Crank Summerfest
July 5, 2005 - The Twang Dragons did not disappoint the Summerfest crowd after being listed as the Journal Sentinel Artist Pick of the Day. The weather was great and the band punched out "an energetic afternoon set" to an appreciative audience at the world's largest music festival. Read the review here.
New Twang Dragons open River-bration
May 20, 2005 - The Twang Dragons heralded the beginning of the summer entertainment schedule for the Watertown Main Street Gateway to the Weekend. The weather was hot and the band was hotter as the crowd kicked up its heels by the aptly named Rock River. See pics here
Twang Dragons shake into a 'fierce groove'
August 19, 2004 - "The aptly named band is a little bit country, a little bit fire-breathin' serpentine-grooving rocker," according to a Milwaukee Journal Sentinel article.